Spotlight Saturday – Meet Roxane Cotton, Admissions Director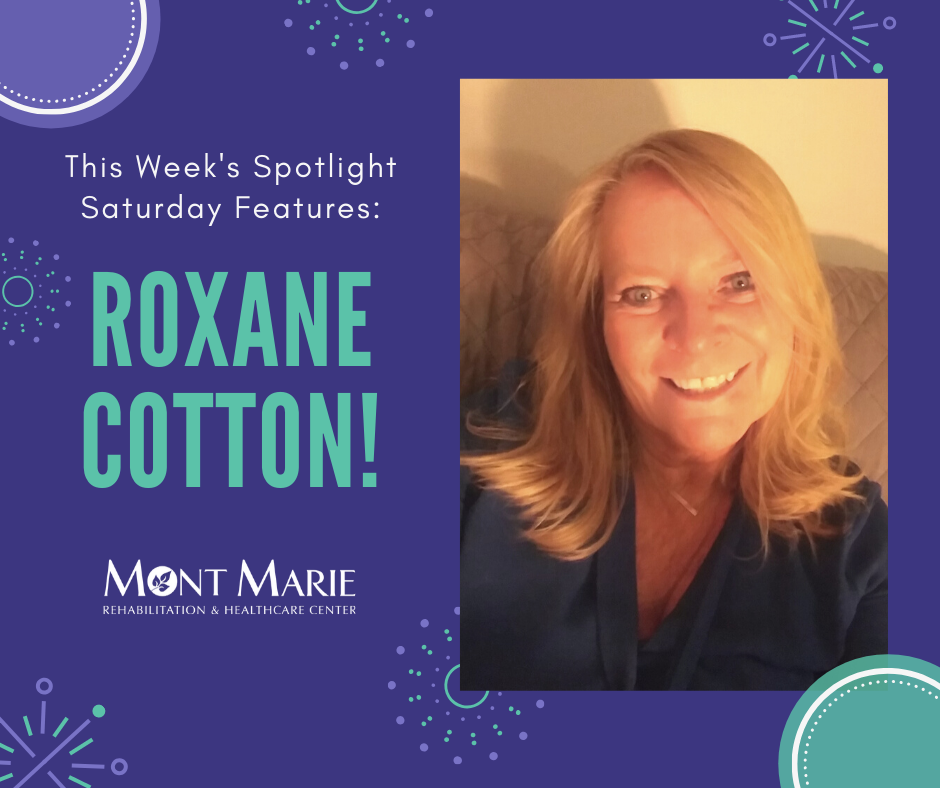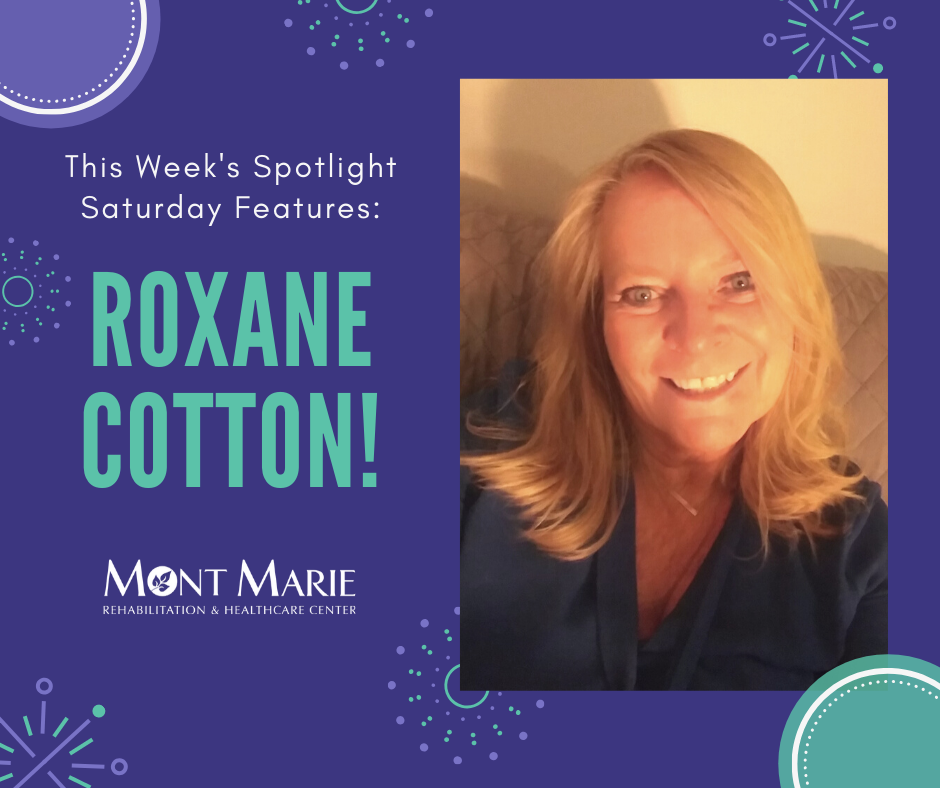 It's time for #SpotlightSaturday and we recently had the opportunity to sit with our very own Roxane Cotton, our Admissions Director here at Mont Marie Rehabilitation & Healthcare Center. We invite you to get to know Roxane more by reading her interview below:
Q. How long have you worked in Long Term Care?
A. Now I have to age myself, I first started as a dietary aide one week after I turned 16 – 45 years ago, I took a few years off to be a stay at home mom and went right back into Long Term Care when I resumed working.
Q. What made you want to work in this industry?
A. When I started as a dietary aide and interacted with the residents and saw the smile it would bring to their faces it gave me a great sense of fulfillment, they have interesting stories regarding the careers they had or good stories about raising their families, I learned a lot about them they would share the ups and down that life brought them.
Q. How did you first learn about Mont Marie?
A. When I moved from Michigan to Massachusetts I worked at another facility around the corner that was associated with Mont Marie, so I always knew it was here. At that time it was not a skilled nursing facility, it was a place where the nuns lived and an infirmary, they also had a daycare on site. I was always in awe of the beautiful grounds at Mont Marie.
Q. What advice do you have for prospective Mont Marie candidates?
A. The advice I would give is to go into your new role at Mont Marie working together as a team. This is incredibly important especially in our industry where we expect to provide compassionate and caring services to patients and their families. The ability to work collaboratively with one another is the core to the success of Mont Marie.
Q. What are 3 words to describe Mont Marie?
A. To describe Mont Marie is to say it is picturesque, it is an old and interesting facility. Majestic, it is a grand and impressive facility. Accommodating – always a warm welcome from the minute you walk into the lobby with our great receptionist.
Q. What do you like most about Mont Marie?
A. Mont Marie has an established reputation for its programs, it is like a family. I am able to be creative in my position, and enjoy reaching out to the community we serve is very rewarding.
Q. What has been your favorite memory at Mont Marie?
A. So many memories working at Mont Marie in the past 6 months but the one that touched my heart was working with the Sisters of St. Joseph during the holiday to provide gifts for children less fortunate for the holiday, our staff pulled together and provided these children and their parents with everything on their list. We received a beautiful homemade thank you card from the children.
Q. What have you gained from working at Mont Marie?
A. I have gained a new perspective on aging, working with the elderly patients gives you a practical life experience, understanding what patients and families are going through.
Q. What is the favorite part about working for Mont Marie?
A. My favorite part of working at Mont Marie is to know that I have made a difference in someone's life, seeing them smile when you walk into their room.
Q. What is your proudest moment at Mont Marie?
A. I was so proud when a resident made me smile by recognizing what I have done for her, she wrote a beautiful note to recognize me in the facility to express her gratitude saying she thinks I am an excellent asset to the facility and thinks my personality is perfect for the job, she looked forward to me coming in every day and at night to say have a good night. This just warmed my heart to hear her appreciation.
Q. What is your role at Mont Marie?
A. Role – Admission Director – I don't stop there I like to be the ambassador of fun.
Q. How long have you been an Admission Director?
A. I have been doing the role of Admission Director for the past 9 years.
Q. What is one thing your co-workers don't know about you?
A. I'm sure most of the staff does not know that I have my own 3 wheel motorcycle – I enjoy going on charity rides. I also decorate cakes.
Q. What do you like to do for fun outside of work?
A. For fun I have 2 beautiful grand-children that are the world to me, my spare time is filled with soccer games, volleyball games, dance competitions, recitals, and gymnastic meets. For myself, for the past 25 years, I have gone on a sisters trip to many destinations.
Q. What is your Favorite Movie?
A. My favorite movie is Dirty Dancing.
Thank you Roxane, for sharing a little bit more about yourself and for all that you do.
To learn more about our Career Opportunities at Mont Marie please visit our Careers Page: https://montmarierehab.com/careers