Join Our Awesome Team! Job Fair – 10/7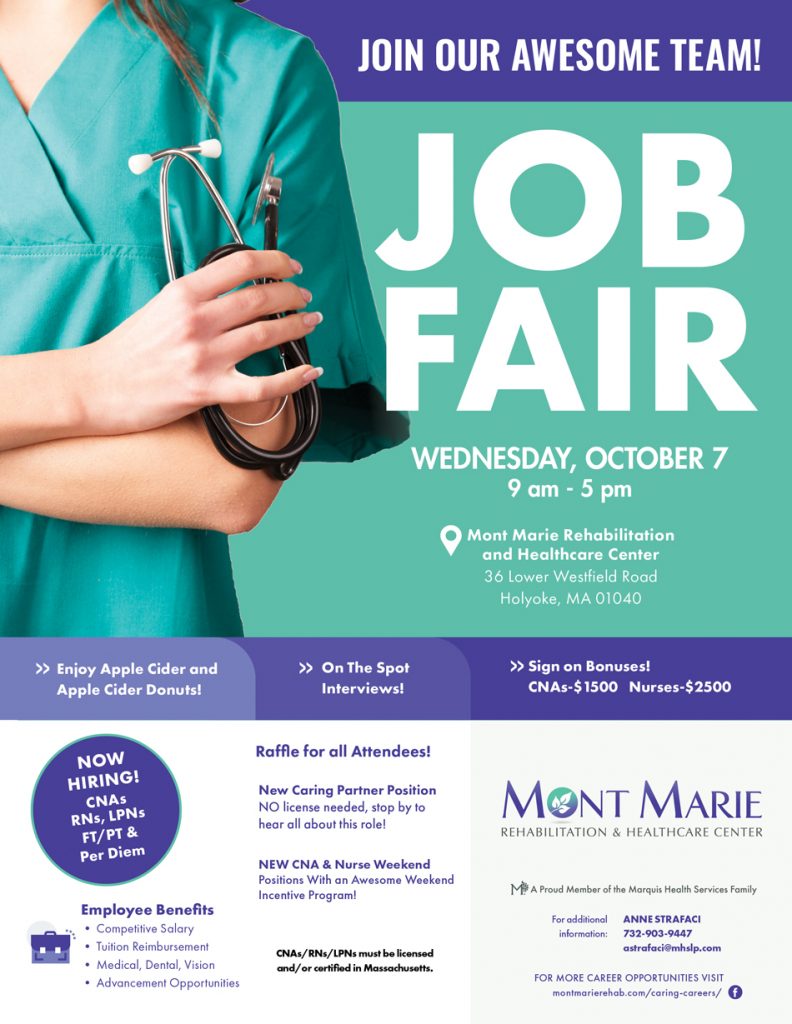 Join Our Awesome Team!
WEDNESDAY, OCTOBER 7
9 am – 5 pm
Mont Marie Rehabilitation and Healthcare Center
36 Lower Westfield Road, Holyoke, MA 01040
NOW HIRING: CNAs, RNs, LPNs
FT/PT & Per Diem
>> Enjoy Apple Cider and Apple Cider Donuts!
>> On The Spot Interviews!
>> Sign on Bonuses! CNAs-$1500 Nurses-$2500
Raffle for all Attendees!
New Caring Partner Position
NO license needed, stop by to hear all about this role!
NEW CNA & Nurse Weekend
Positions With an Awesome Weekend Incentive Program!
CNAs/RNs/LPNs must be licensed and/or certified in Massachusetts.
Employee Benefits
Competitive Salary
Tuition Reimbursement
Medical, Dental, Vision
Advancement Opportunities
For additional information contact ANNE STRAFACI: 732-903-9447 or astrafaci@mhslp.com
FOR MORE CAREER OPPORTUNITIES VISIT montmarierehab.com/caring-careers/